Are you ready to get in shape? Here are 5 quick and simple workouts for busy parents. It doesn't matter if you are a beginner or advanced these workouts are designed to get your in shape and keep you fit. They are all geared for people with limited time that need to fit in a quick and simple workout. Men and women can benefit from the results these workouts can provide. The key to any workout program is to stick with it! So moms, dads, aunts, uncles, family and friends let's get our workout on!
Fast Workouts For Busy Moms
Under 10 Minute Morning Workout

This is a 6 minute mini morning workout that requires no weights. This a great quick & easy full body workout form Fit Wirr. This is also a great workout for a beginner to start off with 🙂
Waistline Workout

Spark People have put together this easy workout that they call the Lose Your Love Handles Workouts. This quick workout is geared towards you mid section. It is great for the waist line and what women call the "muffin top".
Quick Ab Workout

If you are just looking to tone your abs then this workout is perfect. This is a short and simple 8 minute ab workout. No special equipment needed unless you want to pick up a workout/yoga mat. Head over to Pump & Iron for all the details.
Head To Toe Workout

So, no excuses on this one – We all have a towel laying around! This full body workout only requires a towel which means no expensive workout equipment. This one is designed to tone and stretch your body. It targets your Back, Legs, Biceps, Triceps, Shoulders, Back, Arms, Calves, Thighs, Hips, Glutes, Lower back, Chest & Abs. Now that's a full body quick and easy workout! Find more information at Spark People.
7 Minute Circuit Workout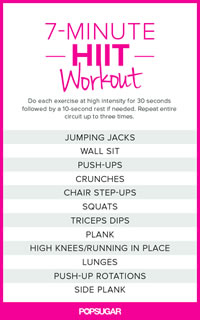 Pop Sugar calls this one intensity interval training. It consists of 12 exercises that you do for 30 seconds each and rest for 10 seconds in between. Who doesn't have 7 minutes to do a high impact workout?
Victoria's Secret Model Workout: 10-Minute Fat-Blasting Circuit Video
Books You May Want To Check Out –
Kettlebell Workbook: The Revolutionary Program to Tone, Sculpt and Strengthen Your Whole Body

These are all workouts that anyone can do but they are perfect workouts for busy moms. These are greats at-home exercise routines that anyone can pick up and start. Don't let your busy schedule get in your way of getting fit! We hope we have inspired you with these great fitness tips/workouts for busy families.
As with any workout programs make sure you don't have any underlining conditions and always check with your doctor before starting any program. These workouts are provided for reference only please do your homework before starting any program and/or nutrition program.

KidPep is a participant in the Amazon Services LLC Associates Program, an affiliate advertising program designed to provide a means for sites to earn advertising fees by advertising and linking to amazon.com.