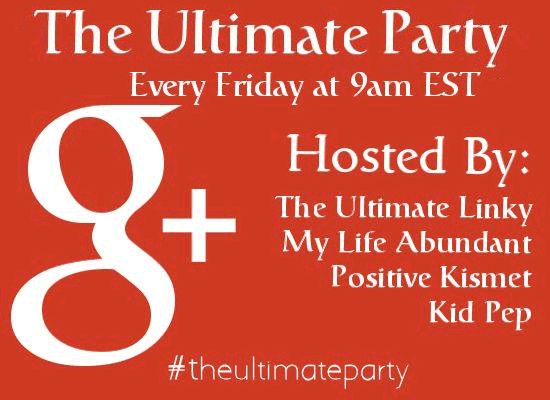 Let's all make this party fun! Please share your family-friendly posts and interact with other bloggers to make this party a success! +1, comment, or share other bloggers posts.
This party will be held every Friday so come back every week and link up and share.
We will be pinning to Pinterest!
We  have a Pinterest board for party

The Ultimate Party

 .  All the hosts will be pinning great posts.  Come follow the board and see yours and other great pins.
Include your pin URL that coincides with your post on G+ so that others can pin it if they want to do so.  You don't have to include the pin url in your posts to participate in the party it's just another way to get your post seen on another social network.  It's a mini Pinterest Party Hop.
Suggestion of how you would structure your G+ post,

"Come check out our newest kids activity.

Go here: http://kidpep.com/ . . .

Pin it for later: http://pinterest.com/ . . .) #theultimateparty"

If you do re-pin someone else's post from the party, we would love it if you would include the hashtag

#theultimateparty

in the pin description as we would like to see how easy it would be to do a Pinterest party using hashtags. This is a good way for us to experiment and for you to get posts repinned.
Please come back after pinning and continue giving some comment and +1 love!
We'll also make a Google+ circle based off of the link-up; so if you want to gain more followers, linking up is crucial. We also have a Google+ page called The Ultimate Party where you can receive updates and share in the threads posted on that page if you circle us!
Please grab our button! This will help the party to grow which will get your posts more exposure!!
CLOSED – Starts May 9 at 9am EST
If you would like to be considered to be a co-host, please contact Tammy from The Ultimate Linky HERE or let us know on The Ultimate Party Google+ page.