We are here with another easy holiday treat idea. With just 3 ingredients this holiday candy is quick and super yummy. This can be given as a gift or you can take it to a holiday party.
To make the Christmas candy you will first melt your chocolate chips. You can do this with a double broiler or microwave. Next you will dip your graham crackers into the chocolate. (Careful chocolate will be hot. You will want to use tongs or fork.) Coat the graham cracker all the way around and then lay on wax paper or parchment paper. Top with crushed candy canes. Place in refrigerator to dry. Once dry….Enjoy!
Here are the ingredients you will need: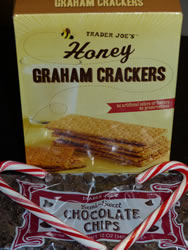 Check out some other holiday gift ideas-
Merry Kissmas
Warm Cozy Toes
White Chocolate Peppermint Bark
Can Of Snow
Find local kids cooking classes and lessons at KidPep. Also check out some great mommy blogs.